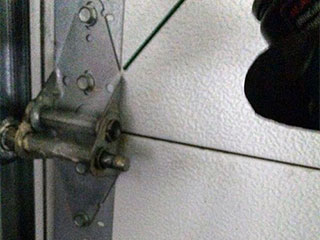 What are the two main rules of garage door maintenance? Do it regularly and do it properly. You have to be disciplined to meet the first requirement. However, you can get plenty of help with the second one. Check out the following tricks which can allow you to do a great job in less time and with less effort.
Lubricate the Rollers During Operation

This tip is applicable to steel rollers, of course. Remember that nylon ones should never be lubricated. This is because they can get seriously damaged. Besides, they are already made to work quietly.
What do you need to make this technique work? Get spray lubricant which you can apply from a distance. Ideally, it should have a light texture and be resistant to hardening when the outdoor temperature drops. It must not attract dust, debris, and insects.
To apply the lubricant, you will need to stand near the garage door track. Once you're in the right position, open the door and then initiate its closing. Spray each roller's wheel as it comes down. This is quite easy, especially with overhead doors that close slowly for safety reasons. Since the roller is moving, the lubricant will naturally spread to the stem. This is how you get a better result with less work.

Test the Safety Sensors Easily

Most people think that they need special tools to test the photo eyes. This may be true when it comes to realigning them, but not when performing a simple functionality test. In fact, a roll of paper towels will do a brilliant job. Just open the door, place the roll right in front of one of the sensors and initiate closing with the opener remote. If the door remains in place or moves down just a little bit and then stops, the sensors are functioning correctly. If your door closes without hesitation, you should get the sensors checked and replaced, if needed.

A Trick for Checking the Weatherstrips

Never underestimate the role the bottom seal and those on the sides of your garage door play. They help insulate your garage and protect the door from weather damage. The seals are usually made from rubber or vinyl and this makes them highly resistant to hot and cold temperatures. However, they will get worn over time. How do you know when it's time to replace them? Use the following test:
When the sun is shining brightly outside, get into your garage and close the door. If you see even the smallest pinpricks of light shining under the door and from its sides, then the existing seals are either too thin or have gotten too worn to do a good job. You should get new ones installed right away.